Client: Seadar Contractors
Rozelle Interchange – Rozelle, NSW
The Rozelle Interchange is a new underground motorway interchange which provides connectivity to the M4-M5 Link Tunnels and the City West Link, and underground bypass of Victoria Road between Iron Cove Bridge and Anzac Bridge. The Rozelle Interchange also provides a connection to the future Western Harbour Tunnel.
The interchange in Rozelle will be mostly underground and tunnelling will be conducted from the site of the old Rozelle Rail Yards. It will deliver new active transport options in Rozelle and transform the disused site into up to 10 hectares of open space.
A joint venture of John Holland and CPB (JHCPB) has been contracted to design and construct the Rozelle Interchange & Western Harbour Tunnel Enabling Works.
Acrow where engaged by Seadar Constructions to provide a Climbing formwork system for the 3 vent shafts on the Rozelle Interchange Project. As the 3 stacks were different radiuses, a cost effective solution was required that achieved the required surface finish whilst limiting the 'special' products required.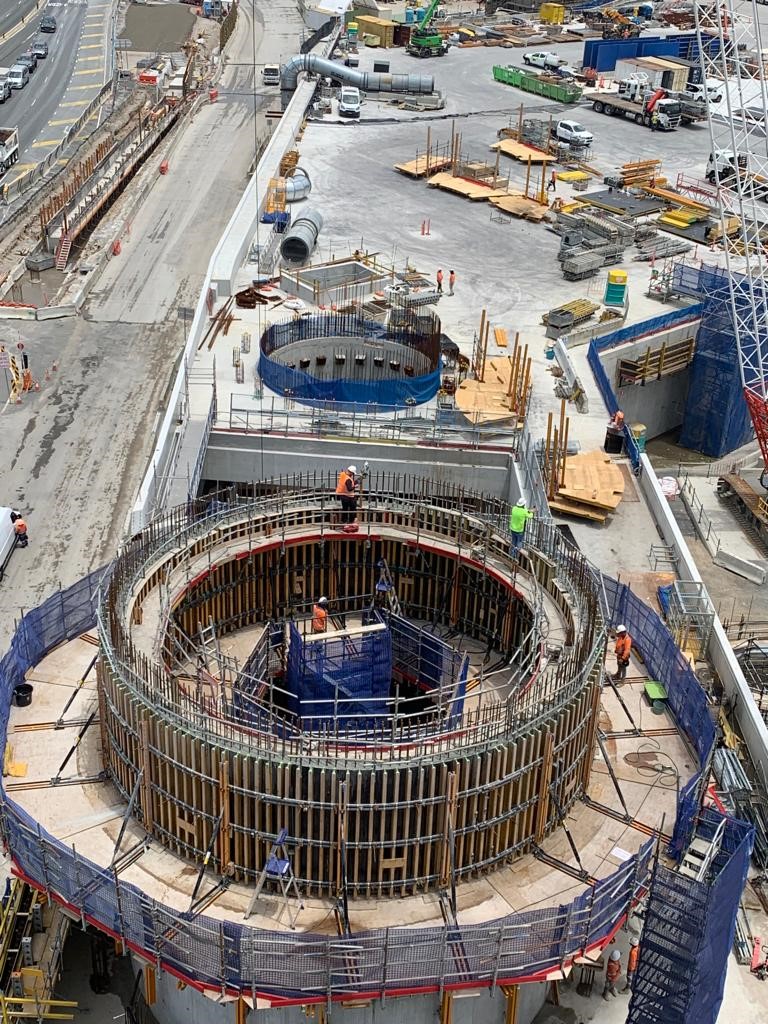 Given the  circular nature of the elements we introduced  a radiused SHS (square hollow section steel) section to achieve the curved shape and connected it to the Jumpform system with our proprietary SHS clamps. Curved sections were tailored to maintain the full roll back properties of the system.
Given the robust nature of the system and its unique adaptability we were able to increase the pour heights from 3m to 3.6m eliminating 1 full cycle whilst still jumping the platforms with the wall forms attached and in the rolled back position. The cost of the 'special items' to achieve the curve forms was kept to a minimum by utilising this simple but effective system.